Project management
DPC coordinates the Italian contributions to the project and the communications among partners and, in general, it leads all the actions implemented by PROCULTHER.
Giovanni De Siervo (Project Director), Tiziana Vicario (Project Manager), Simone Sbarsi (Communications & Event Expert), Irene Zucconi (Institutional Relations Expert)
DPC Cultural Heritage Working Group
The Italian experts contributing to the design and implementation of the project activities are members of the so-called Cultural Heritage Working Group working within the Italian Civil Protection Department.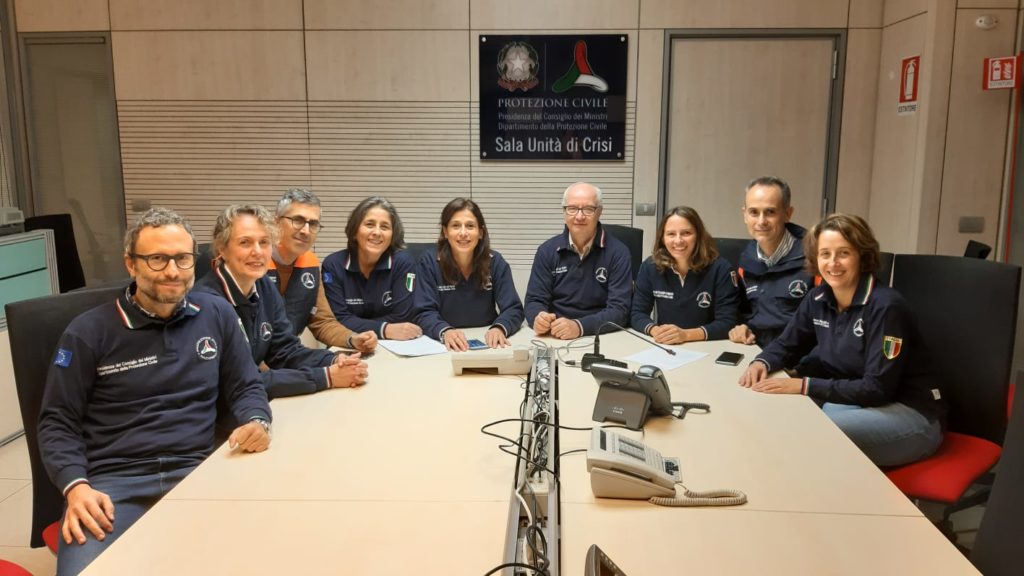 The Cultural Heritage Working Group (from left to right) Claudio Martini, Stefania Renzulli, Pierluigi Cara, Gabriella Proietti, Simona Papa, Cosmo Mercuri, Veronica Piacentini, Emilio Gonzales, Anna Licia Giacopelli.
The members of this specialized team have different backgrounds: they are architects, art historians and GIS specialists belonging to different offices that since 1999 have been dealing with the safeguarding of cultural heritage from natural hazards.
These experts keep constant relations with the Italian Regions, with the Italian Ministry of Cultural Heritage and Activities (MiBACT) and with the operational structures of the National Civil Protection System that contribute to the protection of cultural heritage (Carabinieri, Fire Brigades, Army and specialised volunteering) in the country.
Most of them contributed actively to the implementation of the activities of the PROMEDHE project (Protecting Mediterranean Cultural Heritage during Disasters) carried out by a Consortium led by the Italian Civil Protection Department from January 2016 to July 2018.