Further steps to increase the resilience of cultural heritage at risk of disaster
On 12 April 2021, PROCULTHER was thrilled to participate in the G20 Culture Webinar "Addressing the climate crisis through culture" in the Session II dedicated to "Strategies and Actions for Increased Resilience of Cultural Heritage".
Project Director, Mr De Siervo, presented PROCULTHER as a case study, and seized this outstanding opportunity to call for the development of a common European methodology, tools, and capacities to include the protection of cultural heritage in disaster risk management processes and to ensure a structured collaboration among Cultural heritage and Civil protection actors at local, national, and European level.
In the course of the conference the project Director drew particular attention to the essential and effective role played by the Union Civil Protection Mechanism (UCPM) – pooling together the capacities of Member States and six Participating States (Iceland, Norway, Serbia, North Macedonia, Montenegro, and Turkey) – in ensuring a collective European response to support countries at risk or overwhelmed by the impact of disaster.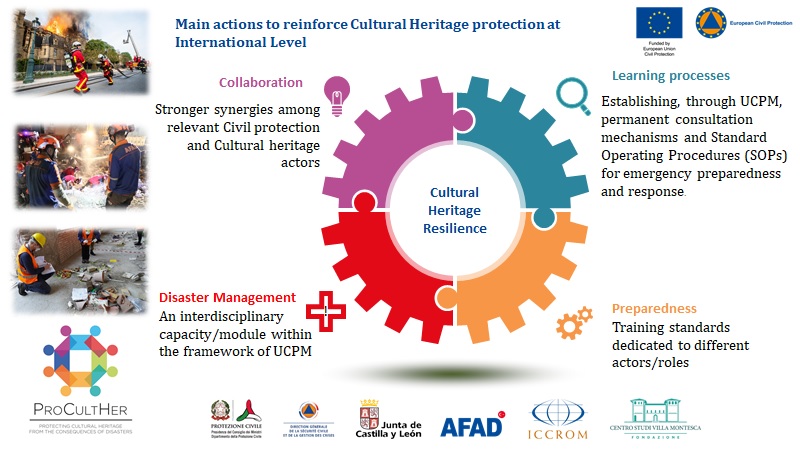 In this sense, the project is contributing to reinforce European technical and operational capacities, as well as to establish a module[1] within the UCPM framework to protect cultural heritage at risk of disaster. This approach will also ensure the inclusion of cultural heritage protection in all the phases of Disaster risk management and the promotion of management models that link short-term relief measures with longer-term development processes.
Cultural issues are a peculiarity of the 2021 G20, under Italian Presidency, which are included among the fundamental pillars of its Agenda. This cycle of webinars is intended to establish a network of international experts from G20 Countries, International Organisations, invited Countries and civil society representatives, and all their proposals and reflections will be collected to inform the G20 Culture Ministerial meeting on 29-30 July 2021.
Among the experts who intervened in this cycle of webinars, held from 9 to 13 April, are also other noteworthy contributions related to a number of relevant topics, such as: the protection of cultural heritage and fight against illicit trafficking, the application of new technologies in support of these actions, the interaction between culture, cultural heritage, training, and education.
PROCULTHER presentation
Web site of the G20 Culture Webinar
G20 Website
@g20org @DPCgov @SecCivileFrance @jcyl @proteccioncivil @AFADTurkey @ICCROM @csmontesca @UNESCOVenice @MiC_Italia @MinistereCC @culturagob @TCKulturTurizm @EU_ECHO @UNDRR @emweeklyrpt
#G20Italy #MiC #MinisteroDellaCultura #CulturalHeritage #HeritageInDanger
---
[1] Within the UCPM the term 'Module' is used to indicate the resources that one or more EU Member States or UCPM Participating States can deploy to contribute to the development of a civil protection rapid response capability. They are organised at the level of each Member States and subject to their direction and command. For more details see: https://eur-lex.europa.eu/legal-content/EN/TXT/PDF/?uri=CELEX:32007D0779(01)&from=IT