The National and University Library in Zagreb organized the International Virtual Conference "Solidarity in culture: Heritage protection under conditions of crisis", a three-day event held from 18 to 20 March 2021, in partnership with the European Commission, with the support of the Croatian Ministry of Culture and Media and the National UNESCO Commission. This event is part of a process carried out in the last years by several countries, including Croatia, aimed at reducing the vulnerabilities of the cultural sector in a holistic, inter-disciplinary and integrated manner. This process is generated by a common way of thinking among the international community of experts and practitioners with regard to the synergistic and mutual benefits of solidarity networks set up by cultural institutions, that yield the most effective and immediate results in prevention, response, and recovery efforts to safeguard cultural heritage, in support of the existing general emergency services.
When a disaster strikes, emergency responders are the first to intervene to save lives and secure the affected areas, but in the last years, due to the extensive loss of cultural heritage during the early stages of a crisis, cultural heritage experts and emergency responders have been promoting the integration of cultural heritage protection in the disaster risk management cycle. In parallel, the use of technical terms such as resilience, prevention, preparedness, recovery, standard operating procedures, and pooling of expertise at all levels has become increasingly common by both cultural heritage and civil protection experts. This trend proves that continuous efforts are being made to facilitate both the understanding and exchange of new interdisciplinary and inter-sectoral approaches toward an integrated conservation and risk management for the development of a comprehensive heritage protection strategy based on cooperation between different actors that provide the potential for resilience-building to disasters.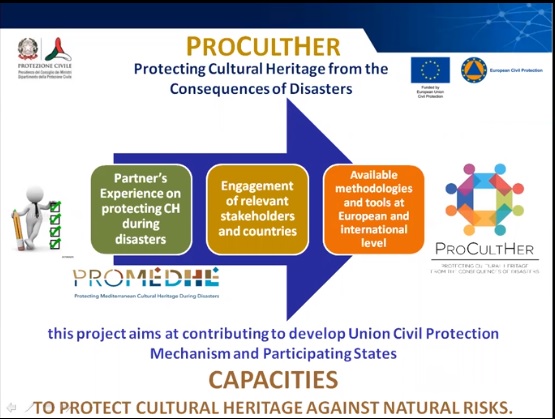 It is in this framework that, on 19 March, Veronica Piacentini, expert in CH disaster management from the Italian Civil Protection Department working on PROCULTHER, shared the floor with Sanda Milošević, from the CH Unit of the Croatian Civil Protection Directorate, and participated in the Conference session on "Networking, Coordination and Collaboration (Interoperability)". Their speeches dealt with the significant experiences developed by Italy and Croatia in recent emergencies and stressed the importance of reinforcing synergies and actions among disaster risk managers and cultural heritage actors to ensure a coordinated and effective protection of our heritage. In addition, Ms Piacentini explained the work carried out with the other project Partners to define a common methodology and standard operating procedures for the activation and deployment of an interdisciplinary capacity – composed by cultural heritage and civil protection experts – lead by the Union Civil Protection Mechanism in support of national response actions in case of emergency.
In addition to several interesting interventions on the conservation, preservation and restoration of cultural assets and artworks implemented through the use of innovative technologies, among those more specifically related to PROCULTHER's field of expertise, it would be worth mentioning the presentations by Aparna Tandon (ICCROM) and by Zeynep Gül Unal, from ICOMOS-ICORP Turkey and member of the Turkish national working group that contributed to PROCULTHER. Ms Tandon shared the insights gained through ICCROM's international capacity building programme on First Aid and Resilience for Cultural Heritage in Times of Crisis (FAR), while Ms Unal cited PROCULTHER as a good example of mutual advantage from the cooperation between civil protection and cultural heritage stakeholders in all phases of disaster risk management, including prevention, mitigation/adaptation, response, and recovery.
The Conference was successfully attended by a large number of participants, joining together 124 speakers from 21 countries and 500 conference members from 53 countries (1), the programme featured presentations and talks by researchers, academics, practitioners, professionals, and volunteers that belong to both the worlds of CP and CH, from distinguished local and national Croatian institutions (such as Andrija Štampar Institute of Public Health, Croatian History Museum, Croatian Conservation Institute, Dubrovnik Libraries, University of Split), EU Member States, and from international organisations and stakeholders active in this field.
(1) Source "Solidarity in culture: Heritage protection under conditions of crisis": NSK 2021 international virtual conference on heritage protection
PROCULTHER's Presentation
Solidarity in culture: Heritage protection under conditions of crisis – Book of Abstracts
Conference website
@min_kulture_hr @EU_Commission @IIC_ @europanostra @ICCROM @Blue Shield Int @NSK_Zagreb
#UNESCO #Croatia #CulturalHeritage #protection #safeguard #riskmanagement #Multilateralism #ICOMCroatia